Fifth Harmony Bid Farewell In 'Don't Say You Love Me' Music Video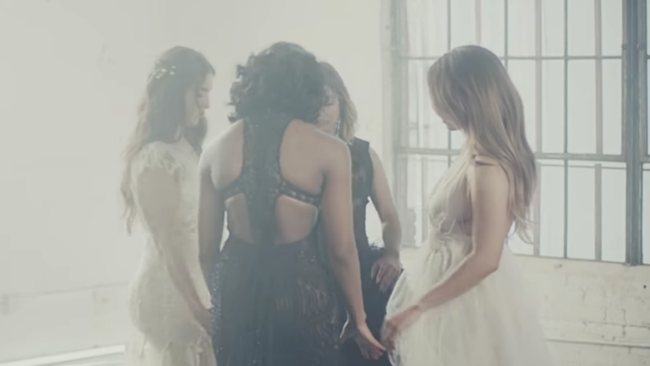 Fifth Harmony's hiatus felt that much more official when they performed their last scheduled show together earlier in the month. However, they really sealed the deal with their new music video, "Don't Say You Love Me," which dropped on Friday (May 18).
In the clip, Normani Kordei, Lauren Jauregui, Dinah Jane and Ally Brooke appear in lavish downs in a huge loft. It's a simple approach to what is otherwise a complicated love song about not offering up enough emotional connection. However, the big Easter egg in the clip can be seen at the very end of the video when the members walk out of a door. For that one final frame, they decide to leave one door open just a crack, signifying a reunion will always be a possibility. "Don't Say You Love Me" is off 5H's self-titled 2017 album, which featured singles like "Down" and "Angel."
After the release, the collective took to their band Twitter account to thank Harmonizers once again. "What a way to cap off 6 years together! Thanks for the memories," they wrote in a message.
In 5H's initial hiatus announcement, which was shared on their social media in March, the group reflected on the hard work they've put in during their six-year journey and made it a point to confess their interests for solo ventures. "Reflecting on the past six years since we started on X-Factor, we've realized just how far we've come and we appreciate everything so much, more now than ever. We've really had one hell of a memorable journey together and can't begin to express our gratitude to y'all for coming along with us on this wild ride!" their statement read. "After six years going hard, non-stop, we also realized that in order to stay authentic to ourselves and to you, we do need to take some time for now to go on a hiatus from Fifth Harmony in order to pursue solo endeavors."
"To our Harmonizers, thank you for everything we have been able to build as Fifty Harmony. With your love and encouragement we will continue to build on ourselves, support one another in everything we do, and keep making you proud, each other proud and ourselves proud," the message concluded.
Photo: YouTube/Fifth Harmony